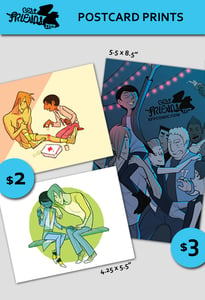 $

3.00
These prints look cute on a corkboard or in a locker - or you can use it as a postcard and send it to your best friend forever!
The two 4.25 x 5.5" prints are small enough to use with a postcard stamp. The top print (pink) is of Teddy helping Vincent with a bloody knee, the bottom print (green) is the two best friends checking out Teddy's phone on a bench.
The large 5.5 x 8.5" print is SOLD OUT!